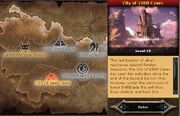 This dungeon is for players of a minimum of level 20. It has 3 different levels,
Ancient Armoury(46 squares), Elfhaven(48 squares), and Throne Room(45 squares), with monsters of different difficulty.
In hell level, the monsters are level 28. You can find a black widow, a geomancer, or an undead minion. The final monster in each of the three floors is level 33.
Difficulties
Edit
Fights have the option to give 165 silver
Rewards from fights in Nightmare difficulty-
Golden Treasure Chest I
Silver Treasure Chest I
Bronze Treasure Chest I
Silver Key
Bronze Key
Crude Necklace
Crude Spaulders
Cedar Staff
Resource (Iron, Lumber, Stone, Copper) Card I
Scrap Metal
Skill Tome I
Summoning Horn